Sumer is icumen in
London, British Library, MS Harley 978, f. 11v
Introduction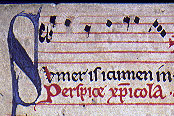 This early Middle English rota, a canon for several voices, survives in a manuscript from Reading Abbey dating from the mid-thirteenth century (for fuller information on the ownership and contents of Harley 978, with a reproduction of the relevant page, see the manuscript). The alternative Latin text in red ink beneath it is a lyric on the Passion. The main critical debate on the poem has centred on the relationship between the two texts: which came first, and what is the relationship between them?
For a recent discussion of this question, with a summary of earlier work, see Roscow (1999); Roscow also re-examines the controversial question of the tone of the poem (is it an innocent spring song (reverdie) or something coarser, linking the cuckoo with adulterous love?).
For an account of similar pairings of sacred and secular lyrics during the Middle Ages, see the background note What is a contrafactum?