Dum ludis floribus: introduction
London, British Library Harley MS 2253, f. 76r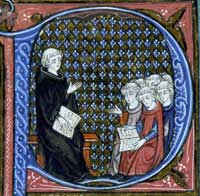 This macaronic love-poem uses all three of the languages found in Harley 2253, Latin, French, and English; it probably originated in a university context (as the reference to Paris in the last stanza suggests), but its content also shows the influence of secular courtly poetry.
In the first four of its five stanzas, the languages used are French and Latin; the fifth, however, concludes with a couplet in Middle English. It is uncertain whether the fifth stanza was originally part of the poem, or whether it is a postscript added by a second writer.